Events post
MOVIE BY THE POOL : WRECK IT RALPH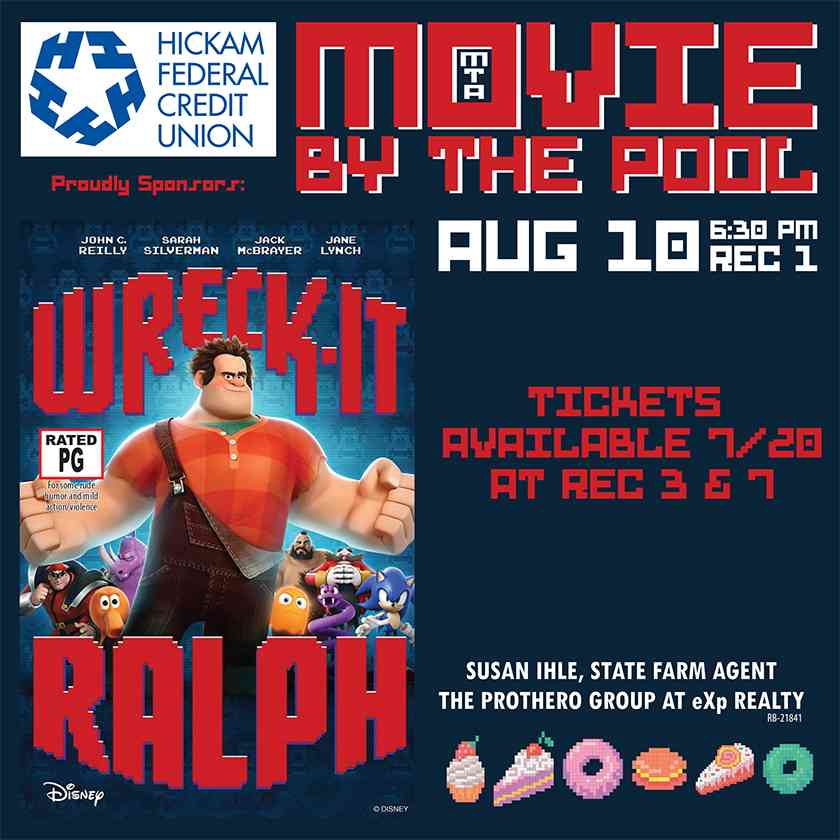 August 10, 2019 • Saturday
Rec 1 • Doors open at 6:30pm
Movie will start at sunset
WRECK IT RALPH (PG)
A video-game villain attempts to change his image by participating in a first-person-shooter game, but in the process,
he wreaks havoc in his virtual universe by freeing an evildoer who can only be defeated with the help of an unlikely ally.
Menu: Garlic Chicken, Poke, Andagi
TICKETS REQUIRED.
TICKETS AVAILABLE 7/20 • 8AM • REC 3 & 7
Note: Rec 7 parking lot will be closed for the Keiki Fair, but tickets will still be available in the Rec 7 Business Office from 8am-10am.
Please find alternate street parking. Tickets will also be available at Rec 3 Business Office during regular business hours.

Pre-Sale Tickets:
MTA Members: $2 per member
At the Door:
MTA Members: $4 per member
**No entry if event is SOLD OUT and at capacity.