Events post
PLANNER WORKSHOP – SOLD OUT –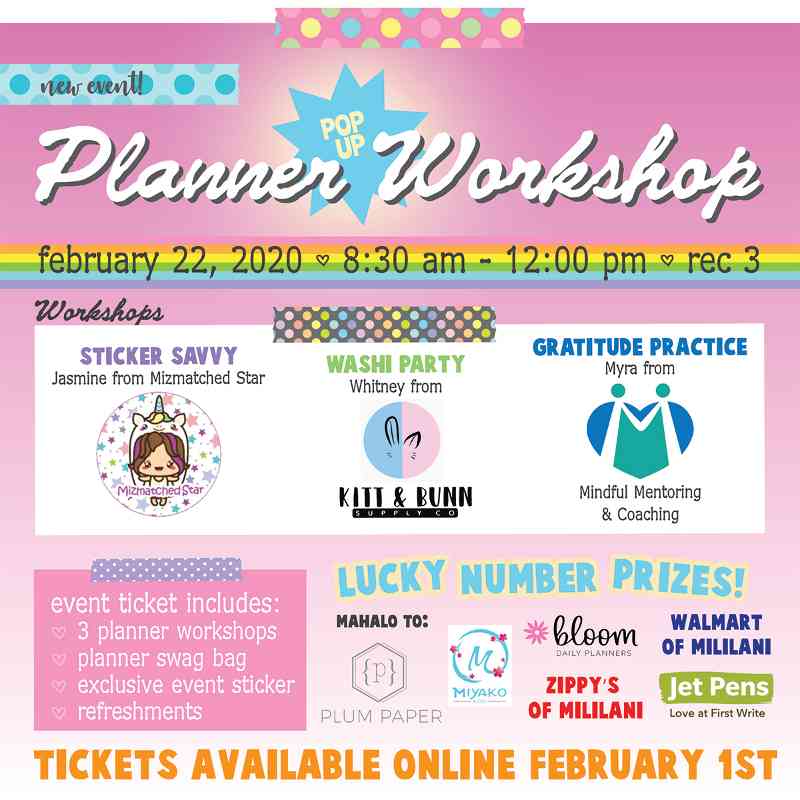 NEW! PLANNER WORKSHOP
February 22, 2020
8:30 am – 12:00 pm
Rec 3 | 95-281 Kaloapau Street
Whether you're new to the world of decorative planners or a seasoned bujo* master – come join us and learn some new techniques! All participants will receive a planner goodie bag including an exclusive event sticker + a chance to win gorgeous planner prizes! Hope you PLAN to join us!
*bullet journal
PLANNER STARTER KIT & SWAG BAG
REFRESHMENTS by Zippy's of Mililani & Honolulu Kitchen
LUCKY NUMBER PRIZES by Plum Paper, Jet Pens, Walmart of Mililani & MORE!
THINGS TO BRING (some supplies will be available for use):
Your Planner, Bullet Journal or Notebook
Washi (decorative masking tape) – if you have
Scissors or blade
Ruler
Pens
Stickers
You will also need an image on your phone to use for your planner charm
Be sure to keep your supplies together (label them if you can)
**You don't need to bring ALL your supplies – just enough for you to use during the workshop & to share if you want. 
FEATURED WORKSHOPS:
• STICKER SAVVY by Mizmatched Star – Get the most out of your planner supplies + DIY Planner Charm!
DIY PLANNER CHARM: Have a digital image on your phone to text to Jasmine for your planner charm.
(Optional) SPARE SHARE TABLE: Bring any of your planner supplies that you don't want/need and share them!
• WASHI PARTY by Kitt & Bunn Supply – Washi what?! What is it about these decorative looking masking tape? Join our Washi Workshop where we will show you a few of many easy DIY projects you can do at home with your Washi tape. In our workshop, Whitney will be showing you how to make greeting cards, cute paperclip bookmarks, and gift tags! Whitney will also give you some tips & tricks that you can use your washi tape for in your daily journal/scrapbooking.
• GRATITUDE PRACTICE by Mindful Mentoring & Coaching: Learn the why, what, how and if about gratitude practice. TN insert included with workshop and practice exercise.
There will also be a bit of time after the workshops for a PLANNER SOCIAL – work on your planners together and learn some new techniques!
TICKETS AVAILABLE ONLINE FEBRUARY 1, 2020
MTA Member Exclusive Pre-Sale (Special Price from 2/1/2020 – 2/7/2020): $15 per person
Regular Price (Available from 2/8/2020): $25 per person
Must be a MTA Member to purchase tickets. Ticket required to attend.

 NOTE: All event tickets will be sold through the MTA WEBTRAC website. To gain access to the system you will need to have an email address on file. Fill out the form below and submit it to any of our business office or to .  Please allow 3-5 business days for processing. Access is only granted to Valid MTA Members.