Events post
MTA BINGO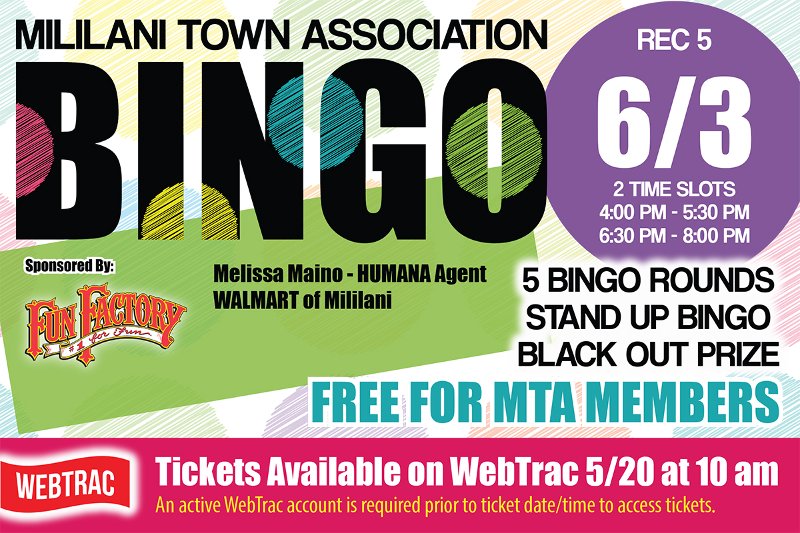 MTA BINGO
June 3, 2022
Friday
Rec 5 | 95-1101 Ainamakua Drive | Mililani. HI 96789
Google Maps: https://goo.gl/maps/UztRSEcXiQNpRcYi6
2 TIME SLOTS:
4:00 pm – 5:30 pm (NEW)
6:30 pm – 8:00 pm
FREE FOR MTA MEMBERS | ONE TIME SLOT PER HOUSEHOLD
5 Rounds of Bingo Fun + BLACK OUT & Stand-Up Bingo Prizes!!
Lucky Number Prize from Melissa Maino – Humana Agent
Ticket required to receive BINGO packet. One packet per player.
Tickets available ONLINE on WEBTRAC* Friday, 5/20/2022 at 10:00 am
Day of Event: Please arrive at least 15 minutes prior to ticketed time. Please have (1) ONE participant check in and pick up Bingo packets for your party. Bingo rounds will start promptly at event start time.
HEALTH & SAFETY NOTICE:
All attending and staff will be required to follow current State/City & County of Honolulu requirements or other safety measures set by MTA.
All events are subject to change or cancelation.