REC 7 CAFE
Take a break at the Rec 7 cafe
Rec. 7 Café was opened in 2014 and has grown from being a convenient spot for your favorite coffee or espresso drink in the morning to a gathering place where you can grab a healthy snack while at the pool, and Mililani's only spot for a local favorite, shave ice! It's another great amenity for MTA members and their families. We hope to see you soon!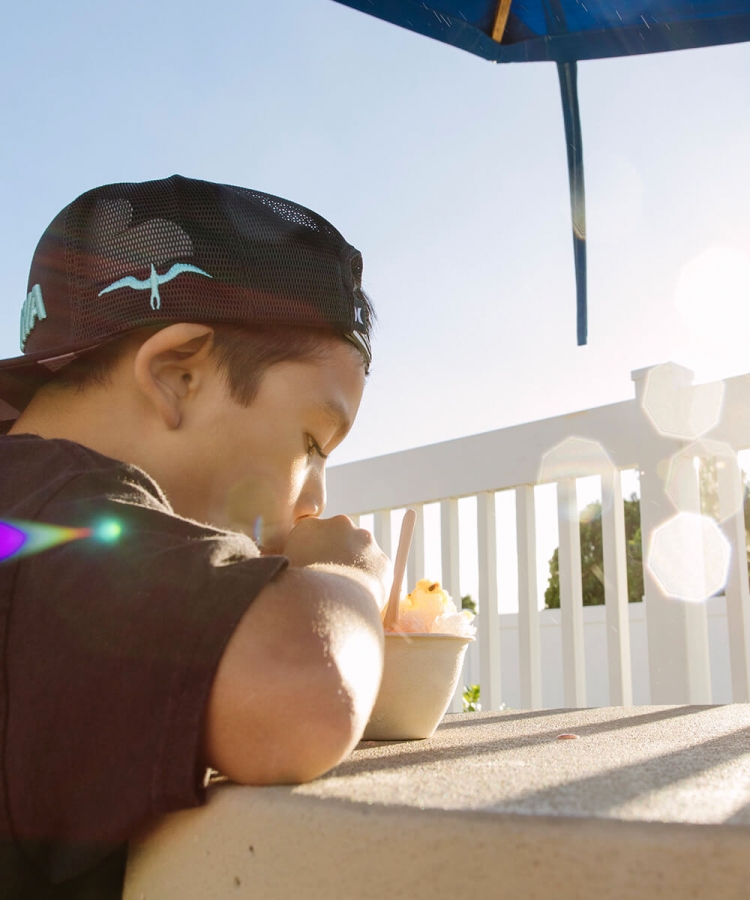 Rec 7 Cafe
95-1333 Lehiwa Dr, Mililani, HI 96789, USA
Get Directions
Phone:

(808) 440-2609

Sunday
7AM–7PM
Monday
7AM–7PM
Tuesday
7AM–7PM
Wednesday
7AM–7PM
Thursday
7AM–7PM
Friday
7AM–8PM
Saturday
7AM–8PM
Instagram
CURRENT INSTAFEED OF
REC 7 CAFE
FOLLOW
Still Have
Questions?
Relax we've got you
Entry and use of all MTA rec centers requires the purchase of an MTA ID card to prevent non members benefiting from all our great amenities like our pools, playgrounds, basketball courts, etc. However, if you're an MTA member and your sole purpose is to pop into Rec. 7 to visit the café and leave, you may do so without needing to purchase an MTA ID card.  Instead, you'll need to ask for a Coffee Card, which allows you to scan in for entry to the facility, visit the café and head back out on your way.  Nothing beats enjoying your favorite drink under the covered seating area while the kids play on the playground, or a hot cocoa after a night swim, so we recommend purchasing the MTA ID card so you can benefit from everything Rec. 7, and all our other rec centers in Mililani as well.
Unfortunately, you cannot.  Although you're getting the same drink as you would from your local Starbucks, we are owned and operated by MTA and therefore do not honor Starbucks gift cards and their reward program.  However, we have our own loyalty program where you receive a reward after your 10th visit. Make sure to ask the barista for more information at your next visit!
You can find all the classic Starbucks drinks here at the café, following the same recipes and using the same ingredients.  We even have some of the popular seasonal drinks as well. There are items that can only be found at Starbucks retail locations, and a few that we choose not to offer, but a vast majority of their popular drinks can be found here at the café.  Another great benefit is having items you can't find at Starbucks, like shave ice! Click on the link above to view our menu, follow us on Instagram to know what seasonal item we're offering at the moment, or just give a call to see if we have your favorite drink.