Events post
Senior Fair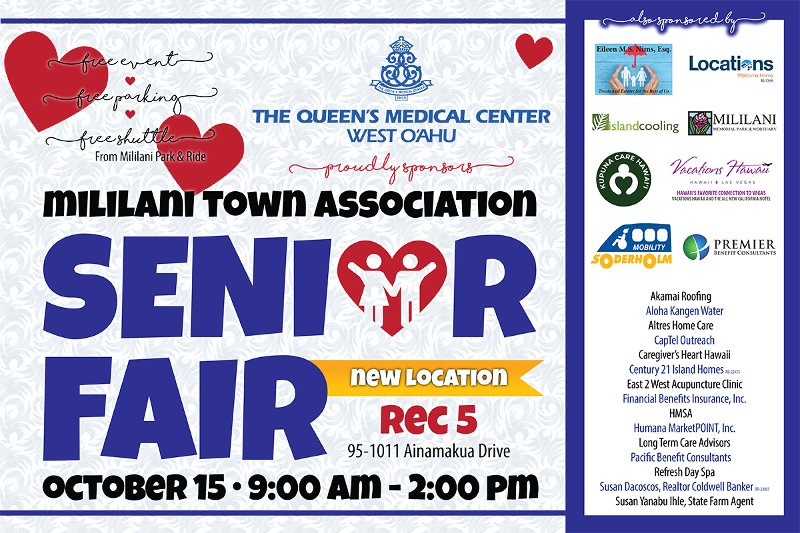 ACCEPTING APPLICATIONS FOR SENIOR FAIR | MARKET 96789 CRAFT & GIFT VENDORS:
We are looking for vendors & food vendors for this event. Vendor applications are due August 16, 2022.
Senior Fair Vendor Agreement
Senior Fair Vendor Applications
Mililani Town Association
SENIOR FAIR
Saturday | October 15, 2022
9:00 am – 2:00 pm
Rec 5 | 95-1101 Ainamakua Drive | Mililani
Google Maps: https://goo.gl/maps/Jq36ZPmuqFtvhHPa8
Free Event ∙ Free Parking ∙ Free Shuttle from Mililani Park & Ride
Park & Ride: https://goo.gl/maps/aRN15GWTSkUeMWcp6
JOIN US FOR A VARIETY OF SENIOR RESOURCES!
Visit The Queen's Medical Center West Oahu booth for Health Education for Seniors & their Families,
Health Screenings, Wellness Services, Financial Experts, Safety tips, Active Senior Activities, Caregiver Resources & More!
MTA Member Exclusive: Enter to WIN a Giveaway from Vacations Hawaii!
Covid & Flu Vaccines by Times Pharmacy
Spin the Wheel for a chance to WIN!
FREE Make & Take Luggage Tags**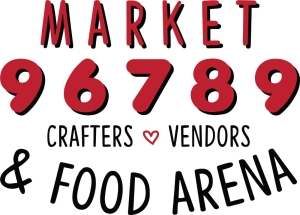 Pampered Chef • Lono Health • Jeano's Homemade Cookies & Snacks
Elomir • Carrie Tandal (Disposable Masks) • Debby Sato Designs
Amy Fung Crafts • Erl's Stuff • Nakina's Treasures • Sentiments & Succulents
Kassidy's Kreations • Mizmatched Star • Heep Creation
Food Arena
Asato's Family Shop • Da 808 Plate • Kravingz 808 • Heart to Table
Hit the Spot Sweets • Bobalicious • Three Cottonteers
*Vacations Hawaii Giveaway: 5 Night California Hotel stay with 3 meals daily (without airfare). Open to MTA Members Only & must be ≥21 years old to win. Visit mililanitown.org for complete rules & details.
**While supplies last. One per person. Event details & features are subject to change.
VACATIONS HAWAII – California Hotel & Meal Package
1. Giveaway Description. This giveaway is sponsored by Mililani Town Association & Vacations Hawaii. The promotion begins October 15, 2022 at 9 a.m. and ends at 2 p.m. on October 15, 2022. Entries must be received by 2 p.m. on October 15, 2022.
2. Eligibility. This promotion is open only to Mililani Town Association Members 21 years or older. Valid Mililani Town Association address or member number must be listed on entry form. One entry form per person.
3. How to Enter. Beginning on October 22, 2022 at 9 a.m., qualified individuals can fill out an entry form at the Mililani Town Association booth. All entries become the property of Sponsors, and Sponsors reserve the right to use any information submitted by entrants.
4. Prize (Vacations Hawaii): Five (5) Night Hotel & Meal Package (airfare not included).
5. No purchase necessary and no money exchange required to enter.