Events post
EARLY BIRD CRAFT & GIFT FAIR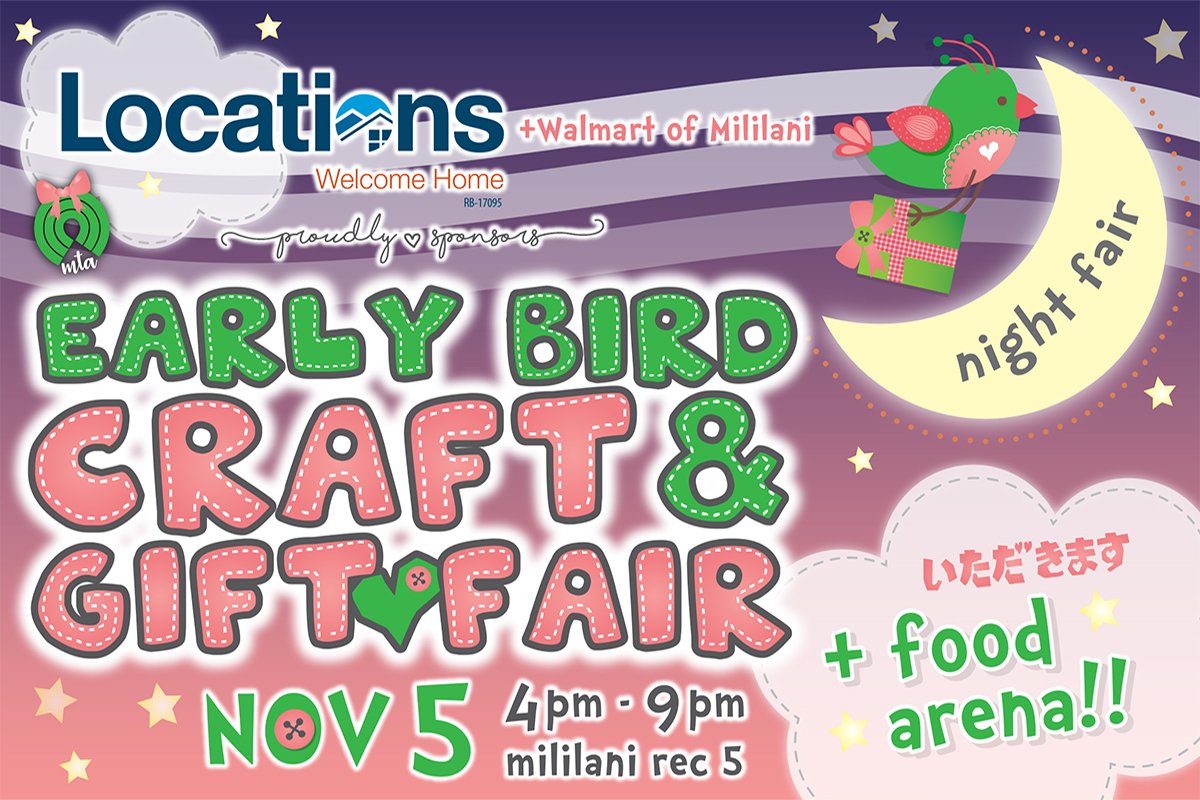 mililani town association
EARLY BIRD CRAFT & GIFT FAIR
Proudly Sponsored By:

RB-17095
+ WALMART OF MILILANI
Saturday, November 5, 2022
Night Fair | 4:00 pm – 9:00 pm
MTA Rec 5 | 95-1101 Ainamakua Drive • Mililani, HI 96789
REC 5: https://goo.gl/maps/UbR6M5kjXa1Ct8eW7
FREE EVENT
Plenty of Free Onsite Parking + Free Event Shuttle from Mililani Park & Ride
Mililani Park & Ride | 95-1069 Ukuwai Street • Mililani, HI 96789
Park & Ride: https://goo.gl/maps/GSPtaGPEFoyciDjz7
Start your holiday shopping off with a bang with over 60 of your favorite & NEW vendors!
SHOP a variety of gift items including handmade crafts, baked goods,
stationary & art work, candles, plants, apparel, cutting boards,
handbags & accessories, jewelry, novelties, toys, collectibles & more!
Grab a bite at the FOOD ARENA with Comfort Seating & Cocktail Tables under the stars!
FLYIN' AHI • DA 808 PLATE • THE RICE BOX CAFÉ
TACO PLUG 808 • SMOKED • BUGI GRINDZ
HIT THE SPOT SWEETS • 3 COTTONTEERS • BOBALICIOUS
Check out #mtacraftfairs on Instagram for updates!
Early Birds: Visit the MTA Booth for a FREE Stocking Stuffer Scratch Card for a chance to win Discounts & Gifts from our vendors! Starts at 4:00 pm!
LAST CALL! From 7:30 pm – 8:30 pm | Spin the Wheel for a chance to WIN a Walmart Gift Card!!
*While supplies last. No purchase necessary.
See you there!
*Vendors: This event is SOLD OUT. Please email to be put on the vendor list for future events.