Events post
Starlight Festival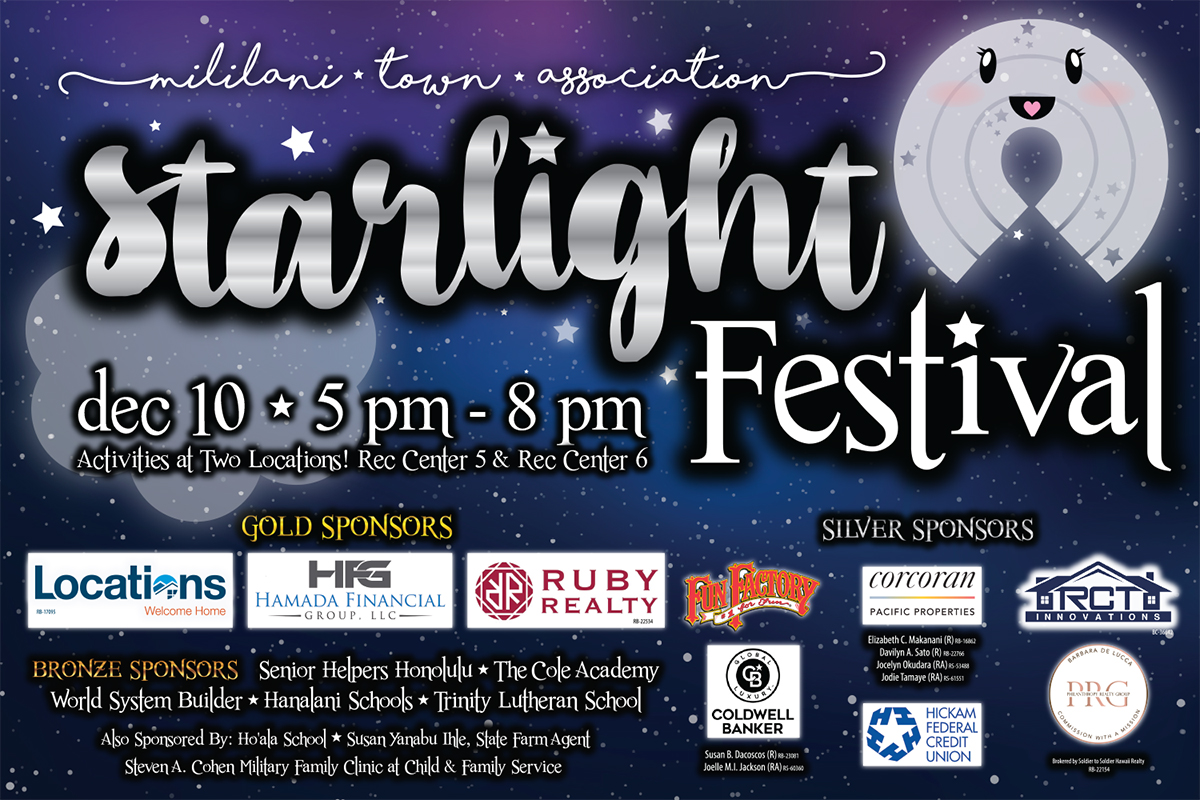 mililani town association
HOLIDAY
STARLIGHT FESTIVAL
December 10 ☆ Saturday
5:00 pm – 8:00 pm
Activities at TWO LOCATIONS!
MTA REC 5 | 95-1101 Ainamakua Drive
MTA REC 6 | 95-1010 Konaku Street
CLICK HERE FOR PRINTABLE ACTIVITY GUIDE
Join Us from Twilight to Starlight for a Night of Festive Holiday Activities, Yummy Food & Fun for All Ages!
FREE PARKING: There will be plenty of parking at Rec 5, street parking at Rec 6 and parking at the Mililani Park & Ride (95-1069 Ukuwai Street).
FREE SHUTTLES (4:30 pm – 8:30 pm): Hop on one of the free shuttles & get off at your desired location! There will be a fleet of FOUR shuttles to transport you from each location. They will be circling Rec 5, Rec 6 and the Park & Ride. The last shuttle will be at 8:30 pm.
*Event features and availability are subject to change.
SANTA'S WORKSHOP AT REC 5
☆ MTA Member Exclusive! Free Limited Edition Starlight Festival Tote Bag!
Starts at 5:00 pm for the first 500 families to visit the MTA Booth at Rec 5. One bag per family/group. MTA Members Only. While supplies last.
☆ Christmas Rush Crafters Lane
Enjoy a curated collection of vendors for unique stocking stuffers & gifts! Shop handcrafted goods including handbags, jewelry, candles, resin art, stationary & more! Pick up a delicious selection of treats like freeze dried snacks, beef jerky, gummies, smores bars, mochi & more!
Vendors (subject to change): Sweet Little Mochi & Gimme Smmore, Sticky Finger Snacks, Gems by Gem, 7Neves Studio, Hobby Creations, Thirty One Gifts, My Sweet World 808, Butter Bags, DLK Designs, Tasty Jerky Hawaii, Nanstar, and Mizmatched Star
☆ FREE Photos with Santa & Holiday Bear
Sponsored by Locations of Mililani
Receive a FREE Printed Photo with Santa & Holiday Bear! One per family please.
☆ FREE Keiki IDs
Sponsored by Hamada Financial Group, LLC.
Hamada Financial Group LLC is passionate about keeping kids safe and families together! Receive a FREE safety identification card for each child at their booth!
☆ FREE Ornament Making*
Sponsored by Hickam Federal Credit Union
Create your own FREE Stocking Friend Ornament for your tree or to add to holiday gift wrap!
*One per person please.
☆ FREE DIY Reindeer Gift Bag*
Sponsored by Coldwell Banker
Make & Take a special Cute Reindeer Gift Bag to wrap a gift for someone special!
*One per person please.
☆ FREE DIY Holiday Thank You Card*
Sponsored by Corcoran Pacific Properties
Get creative and handcraft a pretty Holiday Thank You Card to show your appreciation after the holidays!
*One per person please.
☆ FREE Cotton Candy*
Enjoy a FREE Cotton Candy courtesy of MTA (by Holo Holo Snow)
☆ Happy Holiday Photo Spot
Run, run as fast as you can and take a selfie or family photo with the Gingerbread Man!
☆ Hawaii Literacy Book Mobile, Mililani Middle School & Other Activities
FROSTY'S FUN ZONE AT REC 6
☆ MTA Member Exclusive! Free Scratch & Win Card
Starts at 5:00 pm for the first 2000 Members to visit the MTA Booth at Rec 6! One card per person. MTA Members Only. While supplies last.
Every card is a winner! Prizes include: Fun Factory Gift Cards, Light Up Star Pillows, Star Key Chains, Colorful Star Candy, Mini Flashlights, Star Wars Umbrellas, LED Bracelets, Tumblers, Limited Edition Stickers, Ass't Gift Cards & More!
☆ Dinner & Dessert Food Arena
Get your feast on with delicious dinner & dessert options in the Food Arena! Kalbi Fries, Ahi Katsu, Grilled Cheese, Fried Noodles, Rice Plates, Pastele Plate & Stew, Spam Musubi, Beef Luau, Burritos & Quesadillas, Dessert Lumpia, Poi Mochi, Sherbert & Sorbet, Bubble Tea, Acai Bowls, Mini Flapjacks & Lots More! YUMMY!
Vendors (subject to change): Flyin Ahi, Heart to Table, Asato Family Shop, Kravingz 808, Rice Box Cafe, Bugi Grindz, Bite Size 808, Da Burrito Kid, Frosty's Cafe & Hit the Spot Sweets
Comfort Seating Tent & Bistro Tables Available.
☆ FREE Cookie Decorating*
Sponsored by Ruby Realty
Mmmm! Frost & Sprinkle your own Holiday Shaped Cookie at the outdoor Cookie Decorating Tent! Wrap it up to leave for Santa or have it as a snack for later!
*One per person please.
☆ FREE Do You Want to Build an Edible Snowman?*
Sponsored by Philanthropy Realty Group
Come on in Rec 6 and build a Yummy Candy Snowman! Draw on a silly face, wrap him up and take your new edible buddy home or give him to someone as a small gift!
*One per person please.
☆ FREE Triple Threat Sport Game
Sponsored by RCT Innovations
Test your skills & win prizes with Fast Ball Baseball, Football Toss and Soccer Penatly Kick at the Triple Threat Inflatable Sports Game!
☆ FREE Holiday Carnival Games
Sponsored by Senior Helpers Honolulu, World System Builder, Trinity Lutheran School, Cole Academy & Hanalani
Play & Win Carnival Games inside & outside Rec 6! Games include: Disk Drop, Mini Bean Bag Toss, Dart Game, Basketball, Cornhole & Outdoor Bean Bag Toss.
☆ Happy Holiday Photo Spot
Get cozy with Frosty & Friends at the Rec 6 Holiday Photo Spot!