Events post
2023 PLANNER POP UP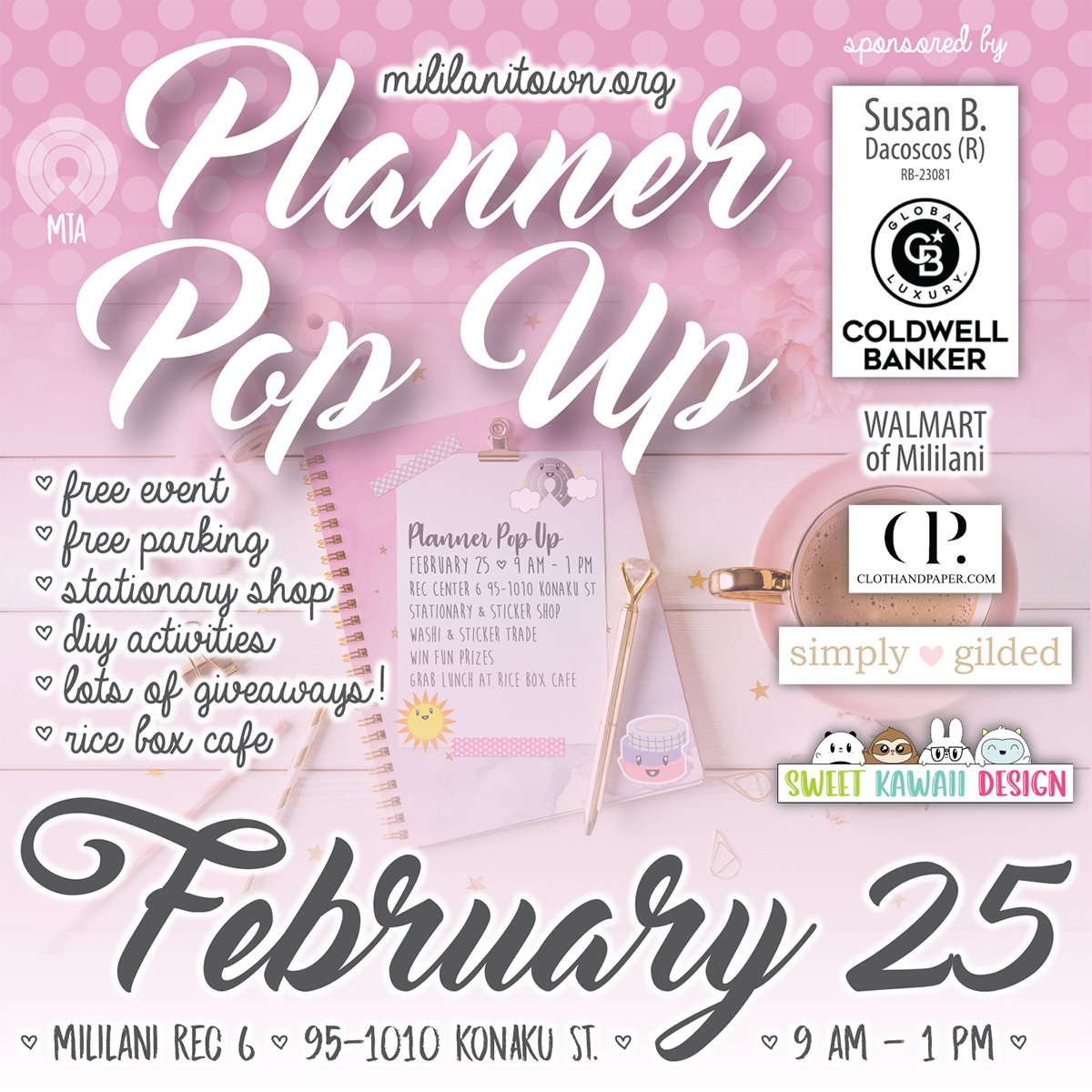 Mililani Town Association Special Event
2023 PLANNER POP UP
Sponsored by:
Susan Dacoscos (R)
RB-23081
WALMART
OF MILILANI

Saturday
FEBRUARY 25, 2023
9:00 am – 1:00 pm
MTA Rec 6
95-1010 Konaku Street | Mililani, HI 96789
Google Maps: https://goo.gl/maps/FdWcG2yNP3BtFkWK6
FREE EVENT (NO TICKETS REQUIRED!) • FREE PARKING • COME JOIN US!
STATIONARY SHOP!
Discover unique PLANNER+ORGANIZER goods, washi tape, stickers,
stationary items, accessories & more!
Vendors: Kakou Collective, Mizmatched Star, CheekyTweetHart,
Kitt & Bunn Supply Co., Kassidy's Kreations, Cute Loot Arts,
Ruth J_Doodles 808, BriPrice Artistry, Miyako & Co, Kinoko Kreations,
Nanstar, Kuuipo Collection, Bubba & Aria's Gift Shop, Twiggy
WORKSHOPS!
9:00 am – 10:00 am
BYOB (Build Your Own Book)
with Myra from Kassidy's Kreations
Join Myra from Kassidy's Kreations for an informal class on how to build your own A5 sized binder planner! Great for planner beginners or seasoned users looking for a new format! No sign up required.
Can't make the class? Visit her booth for book building tips!
10:30 am – 12:30 pm
Hand Lettering + Illustration Workshop
with Kakou Collective
$45 per person. Limit:12
Sign up & Details with Kakou Collective:
https://kakoucollective.com/products/workshop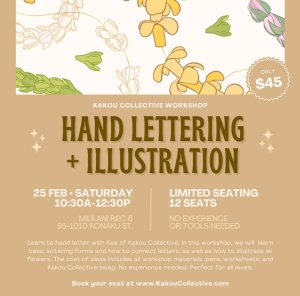 MAKE & TAKE ACTIVITIES + GWP + SWAP TABLE + PLANNER MEET UP!
Mizmatched Star | Make & Take Decorative Pens ($10)
Kitt and Bunn Supply Co. | Free Build Your Own Washi Sample Card
MTA | Free DIY Laminated Luggage Tag
Miyako & Co | Free gift with $50 purchase
Bring your unwanted planner goods to the Swap Table!
Help yourself to a few items from the table.
Planner Worktables will be available for guests to use.
WIN PLANNER PRIZES!
ENTER TO WIN A HP SPROCKET PRINTER FROM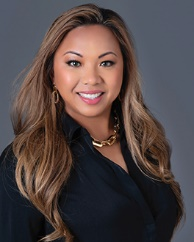 Susan Dacoscos (R) RB-23081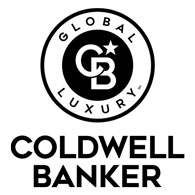 Visit the Coldwell Banker Realty booth to enter & for more information!
+
FREE Scratch & Win Cards for the first 150 guests! Every card is a winner!
*One per person. Keiki 12 & Under will receive a Keiki Scratch Card while supplies last.
+
MTA Member Exclusive! Enter to win a Medium Grab Box from Simply Gilded (Value $500)!*
Includes: 70+ washi tapes in various sizes, Variety of deluxe accessories (notebooks, magnets, etc),
1 assorted 15mm box set / 1 10mm box set, 1 luxe sticker kit, 1 pen, 1 pochette or padfolio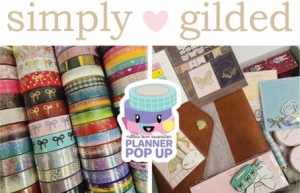 *One entry per person. Must be an MTA Member in good standing to win.
Winner be notified on Monday, February 27, 2023.
Winner will have until March 3, 2023 to pick up prize from MTA Admin Office
located at 95-303 Kaloapau Street • Mililani, HI 96789
during business hours (M-F 8:00 am – 4:30 pm | Closed on holidays).
Alternate winner will be chosen if prize is not picked up by March 3, 2023.
+
FREE Hourly Raffle Prizes! 10:00 am • 11:00 am • 12:00 pm
*One ticket per person. Must be present to win raffle prizes.
BRUNCH/LUNCH POP UP
Visit Rice Box Café for a special pop up featuring a delicious brunch/lunch menu + signature beverages! Covered bistro seating will be available for your enjoyment. Come join us!
MENU (Subject to change):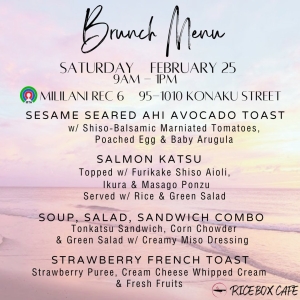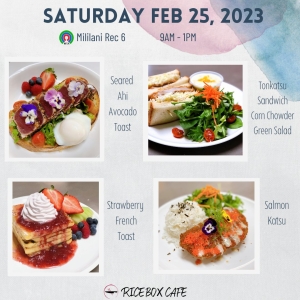 Beverages
Plantation Iced Tea
Iced Coffee
Hot Coffee
Bottled Water
Hawaiian Sun Juice (can)