Events post
HAPPY GARDEN WORKSHOP
MILILANI TOWN ASSOCIATION
Workshop Series:

JUNE 3, 2023
REC 3 | 95-281 Kaloapau Street • Mililani
8:30 am – 10:30 am OR
11:00 am – 1:00 pm
TICKETS REQUIRED
$35 per MTA Member
Tickets available on WEBTRAC: May 12, 2023 at 10:00 am
Active WebTrac account required prior to ticket date to access tickets.
Limited to 20 per time slot.
Event features subject to change.
What is a Happy Garden?
Happy Gardens are small potted succulents in decorative vessels and adorn with cute miniature elements.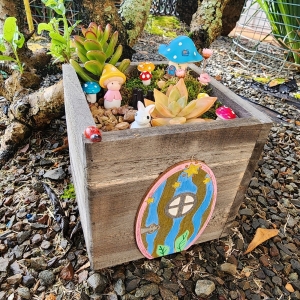 This is an example of the Happy Garden that will be made at the workshop. Some of the decorative elements and succulents will vary.
–
What does the workshop include?
This workshop will include a 5" wooden box that can be created into a cute "home" for 2 succulents. All materials to create a starter Happy Garden will be included. A short informative workshop will be provided by Once Again Hawaii on how to care for your succulents. The workshop will also include a lunch box from Bread & Butter provided by 
Lynn M. Wilkinson, R|PB from Vonlin Hawaii Real Estate.
[CLICK HERE FOR TICKETS | Available on WebTrac 5/12/2023 at 10:00 am]