Events post
HOLIDAY CRAFT FAIR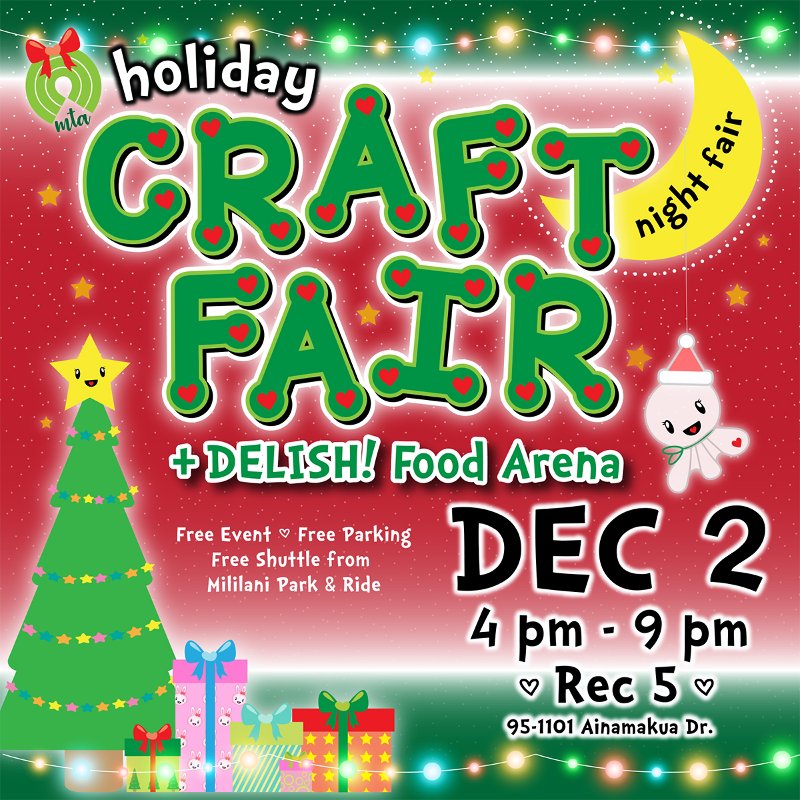 Mililani Town Association
HOLIDAY CRAFT FAIR
DECEMBER 2, 2023
Saturday
4:00 pm – 9:00 pm | Night Fair
Mililani Rec 5 | 95-1101 Ainamakua Drive • Mililani, HI 96789
Rec 5 | Google Maps: https://goo.gl/maps/Jq36ZPmuqFtvhHPa8
Free Event • Lots of Free Parking
Additional Parking & Free Shuttle from Mililani Park & Ride
Mililani Park & Ride | Google Maps: https://goo.gl/maps/aRN15GWTSkUeMWcp6
SHOP a Curated Collection of 60+ Unique Local Crafters & Festive Vendors Featuring a Delightful Selection of Holiday Gifts, Stocking Stuffers, Yummy Snacks, Cute Stationery, Novelties, Toys, Christmas Trees & Décor, Gourmet Condiments & More!
Check out the DELISH! FOOD ARENA for a ono selection of Food Vendors, Snacks & Food Items! A comfort tent with seating + bistro tables available for your enjoyment!
SECRET SANTA GIVEAWAY at 5:00 pm & 6:00 pm. Visit the MTA for a chance to win a Secret Santa Prize! Details will be available at the event.
Click HERE for a list of vendors (subject to change)
Vendor spaces are SOLD OUT | Email for information about future events.