Events post
Keiki Fair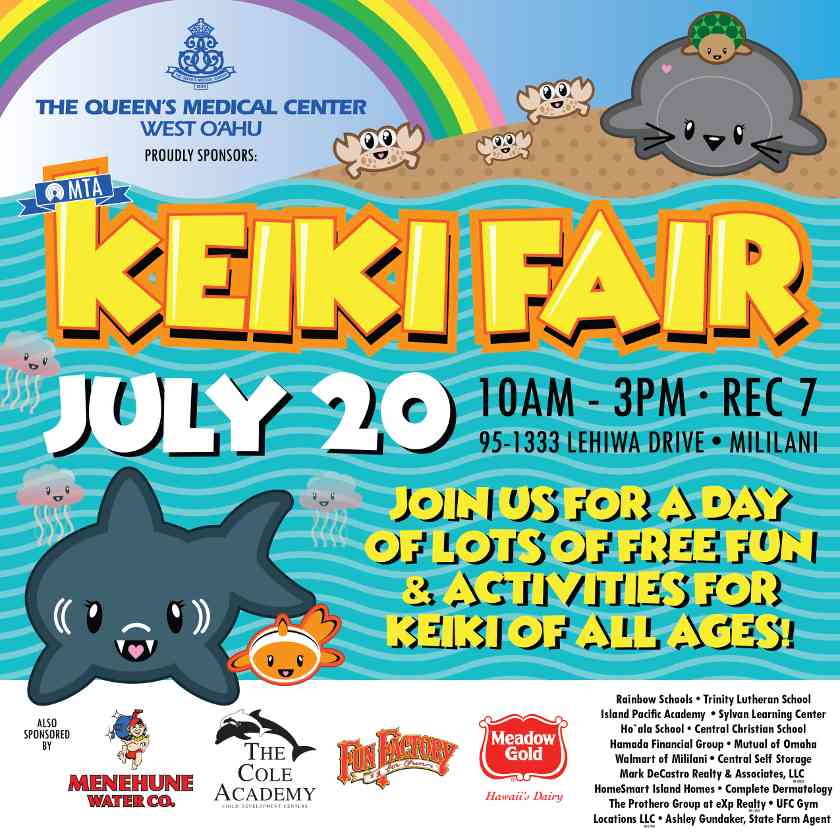 JULY 20 • SATURDAY
10am – 3pm
Rec 7
95-1333 Lehiwa Drive | Mililani, HI 96789
FREE EVENT • FREE PARKING
SPECIAL GUESTS:
SEA LIFE PARK HAWAII • FUR-ANGEL FOUNDATION
KEIKI O KA AINA FAMILY LEARNING CENTERS
BOARD OF WATER SUPPLY • HAWAII LEGO USERS GROUP • KIDS 4 CPR
COCONUT RHINOCEROS BEETLE RESPONSE • MILILANI GOLF CLUB
TROOP 264 (GIRLS) MILILANI • YMCA MILILANI • GIRL SCOUTS OF HAWAII
MILILANI HIGH SCHOOL HOT SPOT ROBOTICS • CUB SCOUT PACK 564
KAMALANI ACADEMY • STORYBOOK ENTERTAINMENT INC.
OAHU COUNTY 4-H YOUTH DEVELOPMENT PROGRAM
HONOLULU POLICE DEPARTMENT
FREE ACTIVITES:
SAFE ARCHERY • PHOTO BOOTH • FACE PAINTING • BALLOONS
GLITTER TATTOOS • COTTON CANDY • BOUNCERS • ROBOTICS
CHARACTER PHOTO OPS • POPCORN • GAMES & PRIZES
LEARN CPR • STEAM ACTIVITIES • CONSERVATION • KEIKI ID
MARINE LIFE EDUCATION • MAKE & TAKE CRAFTS
OBSTACLE COURSE • RAINGUTTER REGATTA & MORE!
SPIN THE WHEEL at the MTA Booth
to win limited edition Keiki Fair stickers, Fun Factory & Walmart Gift Cards, t-shirts, & More!
*One spin per person. While supplies last.
FUN ACTIVITIES (Small Fee):
CREATE YOUR OWN HAPPY GARDEN
THE BUTTERFLY EXPERIENCE
MAKE & TAKE PAINTING
ONO FOOD:
FLYIN' AHI • HAWAIIAN WAFFLEDOG • ELENA'S FILIPINO FOOD
HEART TO TABLE • ULU'S LEMONADE • HELO YELLO ICE CANDY
PRIMO POPCORN & FROZEN KUSTARD (IN KAWAII MARKET)
+ SHAVE ICE, BEVERAGES & SNACKS IN THE REC 7 CAFE!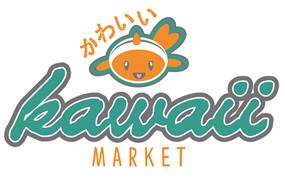 Come and shop a mini curated selection of the coolest and cutest vendors in Hawaii!
Stationery • Unique Apparel • Jewelry • Accessories
Planner Goods • Stickers • Pouches • Snacks & Goodies
Handmade Crafts • Novelties • Original Artwork
Visit the MTA Booth for a FREE Limited Edition Kawaii Market sticker!
*While supplies last