Events post
Autumn Festival Craft Fair – Vendor Registration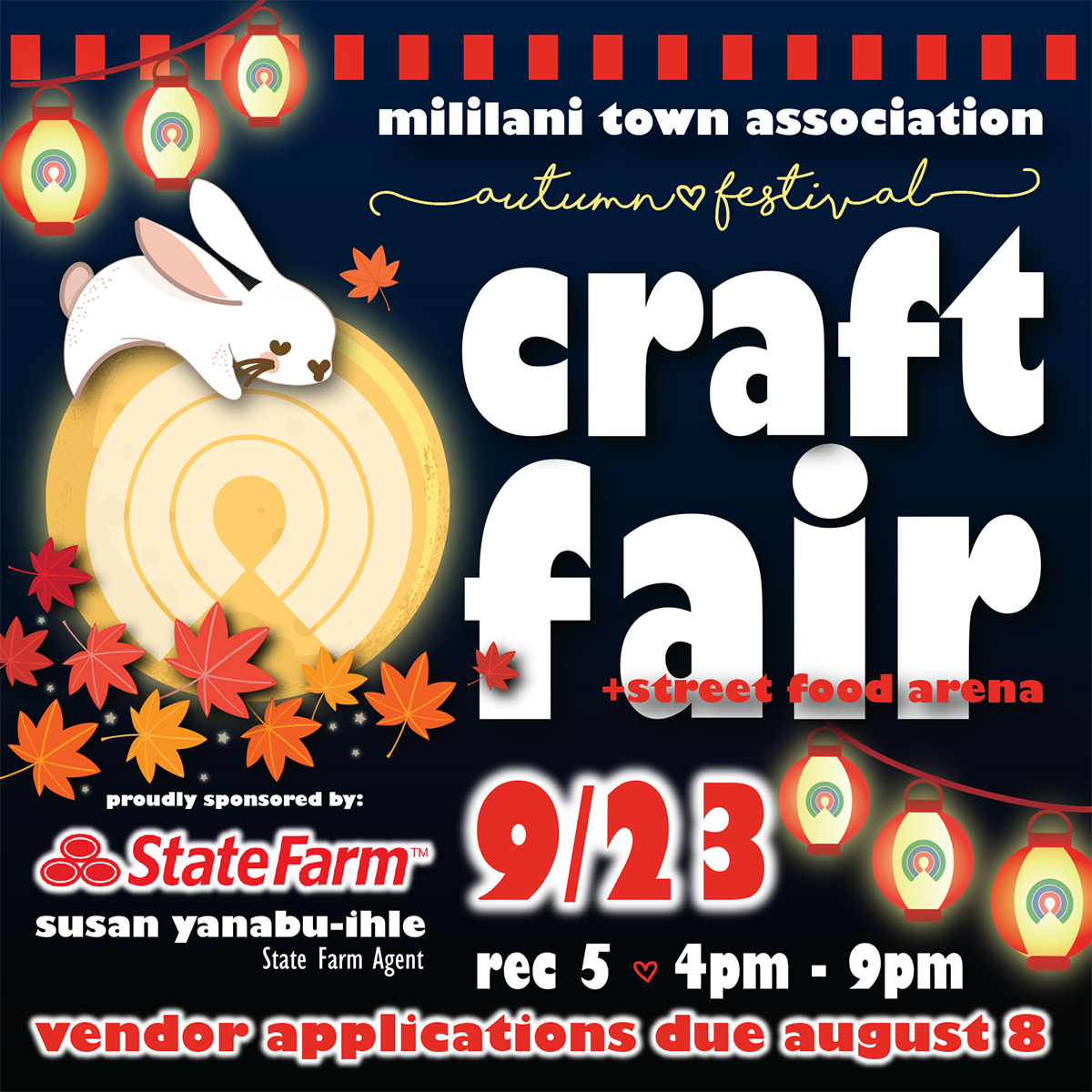 Aloha Vendors!
It's time for the Mililani Town Association AUTUMN FESTIVAL CRAFT FAIR & STREET FOOD ARENA! Mail-In registration is now open for the September 23, 2023 event! MAIL-IN ONLY applications are due August 8, 2023, 2023. Please DO NOT email your applications.
Please review the NEW Vendor Agreement & Application for changes, registration instructions & details.
Event Information:
Mililani Town Association
AUTUMN FESTIVAL CRAFT FAIR & STREET FOOD ARENA
SEPTEMBER 23, 2023
>4:00 pm – 9:00 pm
Event Features: 60 + Vendors, Mochi Madness, Giveaways, Street Food Arena, Free Event + Free Parking + Free Shuttle, Covered Comfort Seating, Bistro Tables & More!
IMPORTANT NOTICE:
Upgrade Rate is now $35 for the additional 2' of space.
Fees are also now a FLAT RATE PER SPACE – $85 (MTA Members) and $100 (Non-Members). No discount for multiple spaces.
Please read the VENDOR AGREEMENT carefully for more information and other changes.
IMPORTANT DATES:
Applications Due: August 8, 2023 (must be received by this date)
NOTE: Vendors selection is based on product type and other criteria. VENDOR SELECTION IS NOT FIRST-COME-FIRST-SERVED or based on prior participation. However, it is best to turn in applications asap or before the deadline if possible. Vendors are not selected until all applications are received (by the deadline).
Assignments will be made around Tuesday, August 15, 2023
Payments will be processed starting August 18, 2023
Cancelation deadline (less $20 processing fee): September 8, 2023
If you have any questions – please EMAIL me (). Thank you for your interest in MTA Special Events! We are looking forward to a successful and fun event!
→ DOWNLOADS | APPLICATION, AGREEMENT, MAP:
Craft Vendor Application
Craft Vendor Agreement
Food Arena Vendor Application
Map