Events post
MOVIE NIGHT: TURNING RED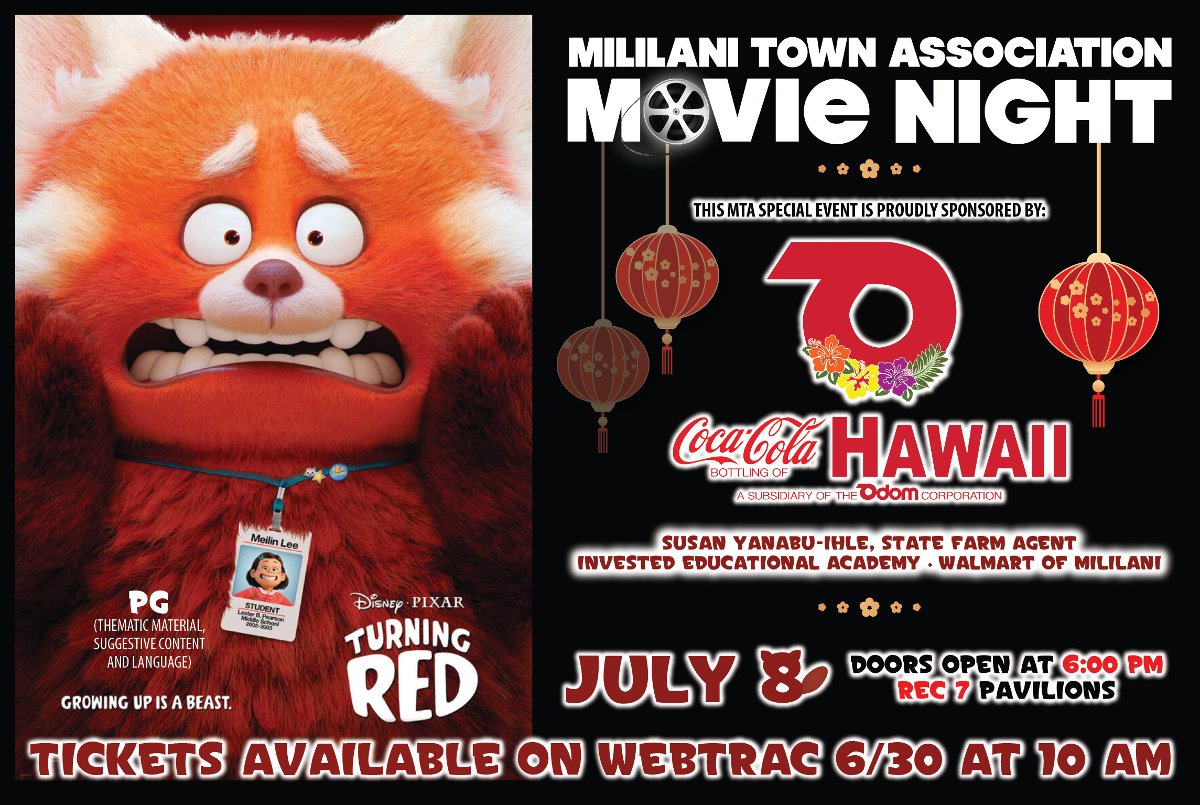 Mililani Town Association
MOVIE NIGHT: TURNING RED
Rated PG (thematic material, suggestive content and language)
July 8, 2023
Saturday
Doors Open at 6:00 pm
NEW LOCATION: Rec 7 Pavilions
95-1333 Lehiwa Drive | Mililani Mauka
*While the Rec 1 Pool is under construction, this popular event will temporarily be held at the Rec 7 Pavilions.
THIS MTA SPECIAL EVENT IS PROUDLY SPONSORED BY:
INVENSTED EDUCATIONAL ACADEMY
SUSAN YANABU-IHLE, STATE FARM AGENT
WALMART OF MILILANI
–
POOL AND GRILLS WILL NOT BE AVAILABLE AT THIS EVENT
–
TICKETS:
• TICKETS AVAILABLE June 30, 2023 AT 10:00 AM ON WEBTRAC
• Ticket Price: $5 per MTA Member
• Active WebTrac account required to access event tickets.
• Tickets are required to attend. NO ENTRY AT THE DOOR.
• Ticket includes: Movie, Bento by Rice Box Cafe, Snacks
AT THE EVENT:
• POOL & GRILLS ARE NOT AVAILABLE DURING THIS EVENT.
• Food tickets will be distributed at the door. One food ticket per attending member with valid ticket.
• Food line will be open from 6:15 pm – 7:00 pm.
• Water & Juice will be available. Rec 7 Café will also be open for business.
• Pavilions are first-come-first-served and/or reserved for sponsors.
• Chairs/seating not available. Please bring your own yard chairs or picnic blankets.
• ALLOWED: Small coolers, outside food/drinks, small umbrellas
• NOT ALLOWED: Tents, tables, alcohol, large umbrellas
• Please be courteous and try not to obstruct the view of others.
6:00 pm Doors Open
6:15 pm – 7:00 pm Food Line Open
6:00 pm – 7:00 pm Free Lawn Games
Sunset: Movie Showtime (Time will vary)
Bento by Rice Box Café
Free Popcorn from Invested Educational Academy + Free Cotton Candy by Holo Holo Snow

*Event Features and Vendors are subject to change.
TICKETS ARE AVAILABLE JUNE 30, 2023 AT 10:00 AM ON WEBTRAC
<CLICK HERE FOR TICKETS>